King Oyster Mushroom Fruiting Block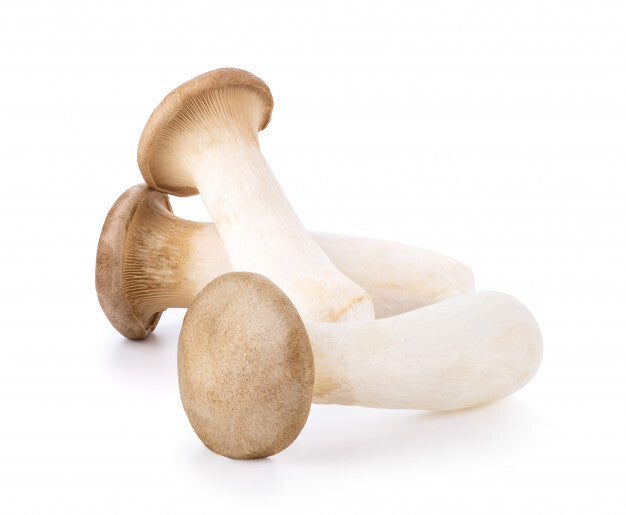 £21.99
Incl. VAT
Shipping calculated at checkout.
Carbon neutral shipping on all orders
Powered by Shopify Planet
---
Note: These blocks require specific conditions such as temperature and humidity please read the fruiting conditions in the cultivation info.

If you require volumes of more than 24 blocks please contact a member of our team here.
For hobbyist's and professional mushroom farmers alike, our mushroom fruiting blocks come fully inoculated and ready to fruit. Each block contains 4.5kg of inoculated substrate which can produce 25% yield. Per Block Price: 1 Block £21.99, 6 Blocks £15.50, 12+ Blocks £14.50
Features
M2603 Strain
4.5KG Organic certified
Expected Yield: 25%
Rigorous substrate quality testing
Grow room trials for every batch
Ethically sourced
Trusted producer
Using high quality Sac O2 bags
Species
Pleurotus eryngii
Primordia Induction
(Night time)* Temperature: lower to 18 °C;
Fruiting Conditions
Room temperature: 12-15 °C; Relative Humidity: 95-97%; CO2-concentration: < 1200 ppm; Light: 800-1500 lux
Flushes
Number: 2; Interval: 1-2 weeks; Between flushes: relative humidity increase up to 90%
Total Production Cycle
Ca. 2 months
Average Yield
150 to 180 g saleable mushrooms per kg fresh substrate
Delivery
Note: Please refer to the specific lead times shown on product pages for more accurate delivery times.
Small Orders (E.g. 100ml Spawn, Plugs): Sent via Royal Mail large letters.
Medium-Sized Orders (under 2kg): Royal Mail 24-48 hour tracked parcel.
Large Orders (2kg+): via DPD Express.
Returns
Standard Returns: Returns and exchanges within 14 days of receipt. The item must be unused and in its original packaging. See our returns policy here.
This does not apply to our Gift E-Cards, which are delivered via email.